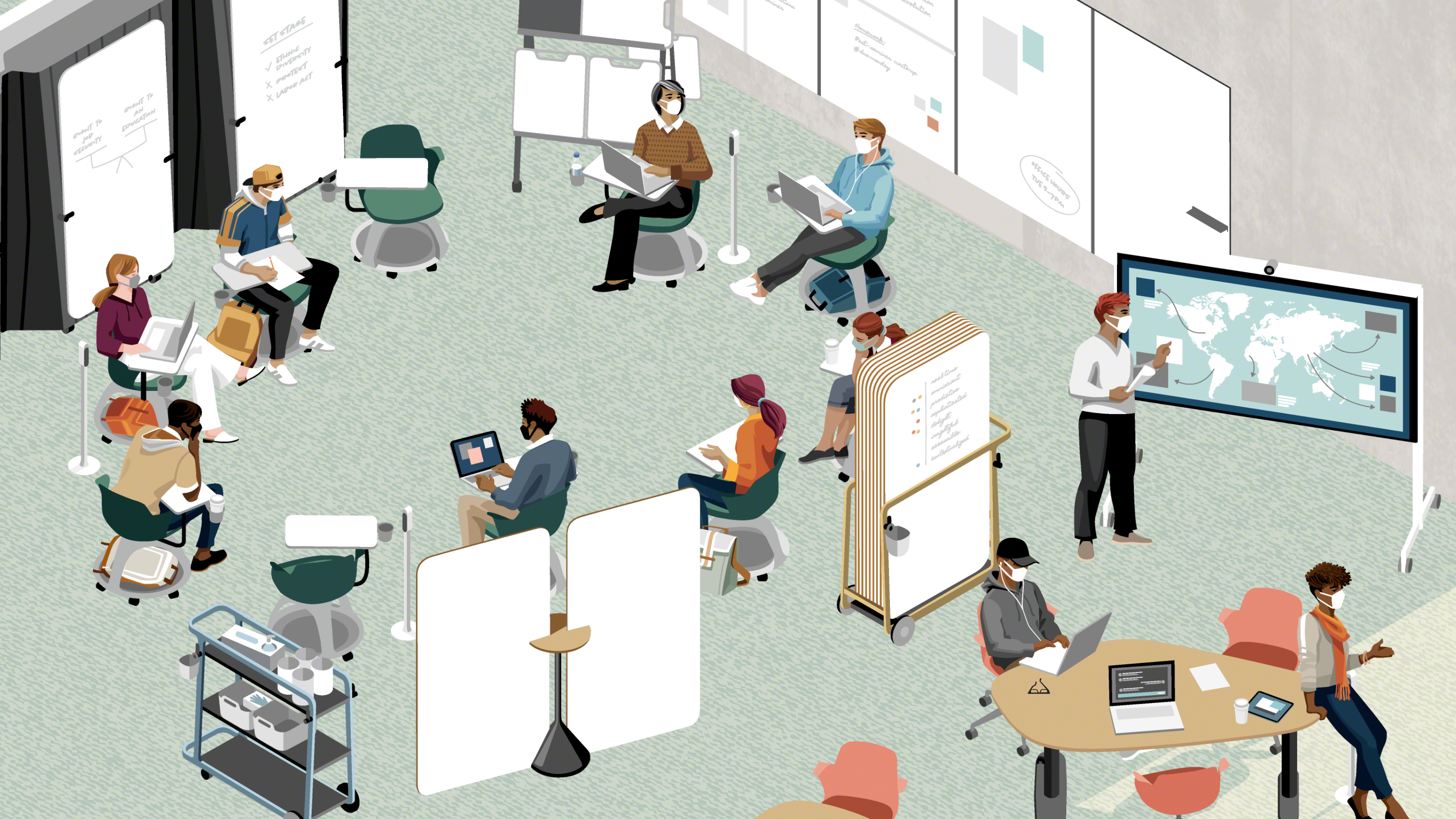 Storr and Steelcase are excited to host the 2022 Education Symposium: Exploring Inclusion! Be a part of the conversation about how to create inclusive, safe, and compelling learning spaces for everyone to thrive in. The field of inclusive design offers strategies that create curated experiences to make people feel included and provide the accommodations they need to achieve their highest potential. Join us for insightful topics including emerging spaces in the K-12 environment and the practices of inclusive design in learning environments lead by a panel of industry experts.
Don't miss this chance to connect with your colleagues while earning CEU, AIA, and IDCEC credits. We look forward to seeing your smiling faces!
WHEN:
November 10, 2022 10:30am – 2:00pm
WHERE: 
Storr Office Environments
10800 World Trade Blvd. Raleigh, NC 27617
Individual lunches will be provided. If you have any dietary restrictions, please let us know in the registration below. A virtual link can be provided upon request.
HOSTS:
Brian Burns, EDAC, Director of Sales at Storr Office Environments
Georgia Rappole, NCIDQ, IIDA, Strategic Account Manager at Steelcase
AGENDA:
10:30am – 10:45am – Registration

10:45am – 12:00pm – Panel Discussion: The Practices of Inclusive Design 

Join a panel of design experts from diverse fields as they discuss inclusive design for education spaces. Panelists will share experiences defining and applying an inclusive process to achieve improved, user-centric outcomes. Come away with ideas and resources to enhance your practice and projects through the lens of inclusivity.

About the Panelists:

Del Ruff – Del L. Ruff is the inaugural Chief Diversity Officer at North Carolina A&T State University and responsible for providing strategic leadership and administrative oversight for researching, developing, implementing, and maintaining a range of successful practices for supporting and prioritizing equity, diversity, and inclusiveness. He is an accomplished future-forward thought leader with more than 20 years of experience advocating for diversity, equity, inclusion, and belonging in the education and workforce sector. Before coming to N.C. A&T, Del was the senior director of workforce and EDI strategies with the American Institute of Architects in Washington, D.C. Del has held roles in K-12 education as a science and math teacher, principal, and superintendent as well as leadership roles at the Southwestern Community College, Fayetteville State University, NC Department of Public Instruction, and the Public School Forum of North Carolina. He holds a Bachelor's degree in Biology from Fayetteville State University and a Master's degree in Leadership from Central Michigan University.
Kaitlan Phelps – Kaitlan Phelps brings 6 years of Interior Design service to Vines Architecture and is currently Project Manager for Southern Coalition for Social Justice Office Renovation in Durham, NC and Lead Interior Design for the JHU Henrietta Lacks Research Building. Her previous project experiences include large-scale public projects – Durham Main Library, NCA&T Student Center, Durham Human Services Complex, Harvey B Gantt Center, International Civil Rights Center and Museum, and the Museum of the African-Diaspora. Kaitlan attended Meredith College and was the recipient of the Sandra Shelton Graham Scholarship in Interior Design. Since graduation, she has built a reputation for elevating interiors – creating aesthetically pleasing and functional spaces that complement and enhance the architecture. Kaitlan's design intuitiveness was recognized by industry leaders in 2008 when she was presented with two DOC Awards by Ultron. She holds a Bachelor of Science in Interior Design from Meredith College.
Kamara Sudberry – At Steelcase, Kamara leads the development and integration of inclusive design through the application of design principles and practices across the business. She leverages her background in the field of Diversity, Equity & Inclusion (DEI), and her passion for collaboration to create inclusive spatial experiences. Kamara holds a Bachelor's degree from Hope College in Holland, MI.
Marques Manning – Marques joined KONTEK Systems in 2017 as the Director, UX Design & Technology prior to becoming the Managing Director in 2020 and President in 2022. Before joining KONTEK he spent 14 years in the live production industry with a focus on live events for corporate clients. During this time, he held a variety of roles which have provided a wide range of experience in operating small businesses in addition to co-founding two successful production companies. He has extensive experience in product development and testing, system design, project management, and networked AV systems. Marques is a native of Durham, being born and living in the area through high school before attending North Carolina A & T State University where he received his Bachelor's degree in Electronic Computer Technology.
Moderated by Chonda Turner – Chonda is the Regional Education Manager of the Southeast Region for Steelcase.

She is passionate about helping school districts create environments

that 

promote learner and educator 

success by using space more 

effectively. She helps to translate Steelcase's research-based insights into

applications and experiences that optimize the performance of educators, 

students, leaders, and staff. Chonda has a Bachelor's degree from Michigan State University and a Master's degree in Technology Management from University of Phoenix. 

12:00pm – 12:45pm – Networking Lunch

Lunch will be provided. Please notate any dietary restrictions during registration.

12:45pm – 1:45pm – Emerging Spaces in K-12 Environments by Laurie Uherek

Social dynamics, technology shifts, and pedagogy influences have a significant impact on the traditional classroom. Traditional learning environments do not always support all learning styles requiring a more inclusive approach to design. This course will define the drivers and benefits of new environments for learning and explore emerging spaces including mixed reality, maker spaces, outdoor learning, Esports, and learning commons.

About the Presenter:

Laurie Uherek is the Regional Sales Manager with SmithSystem. She engages herself with educators to learn about the diverse needs,

values, and historic culture of their community. Laurie's role is to collaborate

and cultivate design consciousness by providing outstanding products and 

services that support a holistic solution with inherent flexibility.

​
REGISTRATION: