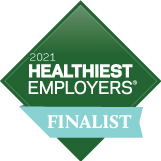 Raleigh, NC 9/29/21 – Storr Office Environments has been recognized in the 2021 Healthiest Employers of the Triangle, an awards program created to honor people-first organizations that prioritize the well-being of their employee population. These companies were recognized because of their commitment to workplace wellness and their exceptional health and benefits offerings. Over the past year and a half, several companies have adapted to remote workforces and new policies because of the global pandemic.
Storr's mission is to be the area's single-source solution for inspiring spaces and positively impact its team members, customers, and the community. Serving multiple markets, including corporate, healthcare, education, life sciences, and government facilities, they offer a comprehensive portfolio of new and preowned furniture in addition to their array of office services. From architectural and design solutions to commercial moves and warehouse storage, Storr's experienced and talented team is committed to providing exceptional customer experiences.
Storr encourages their employees' to mindfully invest in their overall wellbeing by offering several health and wellness programs within the organization. For example, the WeCare Program includes a Workplace Care Coach to serve and support team members' mental health. Storr also promotes giving through the WeCare program, where time and money are donated to help fellow team members through difficult life circumstances. Another great initiative is FitLife, designed to encourage and reward healthy behaviors like exercise, nutrition, and stress management.  Financial health is also essential so Team Members can participate in our complimentary Financial Peace program to learn budgeting practices, spending control, and retirement planning.
Whether the goal is career development, personal life balance, or improved health and wellbeing, Storr offers the tools and resources to excel personally and professionally.
"Our TBJ Healthiest Employers recognition is founded on Storr's purpose to positively impact our Team Members, Customers, and Community," says Marketing Manager, Vicki Hartley.
Award applicants were evaluated across six key categories: Culture and Leadership, Foundational Components, Strategic Planning, Communication and Marketing, Programming and Interventions, and Reporting and Analytics. Completed assessments were ranked with the proprietary Healthiest Employers® Index, a 1-100 rubric for wellness programming. The survey is scored and powered by Springbuk, a health intelligence platform that simplifies data-driven decision-making with an intuitive user experience, predictive modeling, and curated action steps.
About Springbuk and Healthiest Employers®:
Springbuk is a health intelligence software platform that empowers everyone in an employer's health ecosystem to glean actionable insights to improve their population's well-being and contain claims costs. Each year, Springbuk administers the Healthiest Employers® Awards Program across the country to honor the nation's most dedicated employers in bettering their worksite health and wellness programs. To date, over 10,000 employers across 40+ U.S. cities have participated in the awards program. Learn more at www.Springbuk.com. and www.HealthiestEmployers.com.