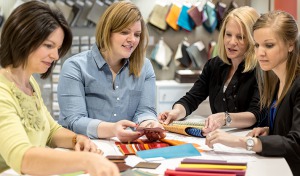 Last year, Kelly O'Donnell joined Storr Office Environments as the Design Manager. Since then, the team has transformed into the largest and the most experienced design team in the history of the company. See what Kelly has to say about her growing team and how they are able to turn our client's ideas and dreams into reality.
Wow, the largest design team in the history of Storr?
Yep. 2013 and 2014 have been tremendous years for Storr. We have won some of the largest opportunities, not only in the Raleigh market, but all over the US. In order to support these clients and to maintain the highest level of customer satisfaction, we needed to expand our design team. And we continue to expand as we win more and more business.
What do you like most about your role as the Design Manager at Storr?
Hands down, my team. This team has the brightest and most talented designers that I have ever worked with. Not only do they create professional, dynamic workspaces, but my team is just fun to be around!
Why should a company select Storr for their design and space planning needs?
So many reasons. Our designers aren't simply decorators. We are consultants. We are here to make a complicated process seamless, more efficient, and cost effective for our clients. We are educated. We use the latest technology. We produce creative solutions. We are current with office trends. We take our client's vision and turn it into reality. And probably, the biggest reason is: we love what we do. Our clients see that when working with us.
You say you use the latest in technology. Can you tell me a little bit more about that?
Sure. Our design team is highly skilled in the latest AutoCAD automation, CAP, and smart tools (CET), making the design process easier and more efficient. With these tools, our design team is able to produce photo realistic renderings and virtual walkthroughs. So before any purchase is made, our clients see exactly how their office space will look and feel.
How do you make sure you are creating a space that covers all the needs of the client?
For each project we have a set of programming questions. With these questions we are able fully understand the scope of work. A lot of times, we visit the customer site to see exactly how the space is currently utilized and what changes need to be made in order to make their office more efficient and visually appealing.
When designing and planning a space for a client, what are the top things clients should consider?
Good question! Here are some big items that we always talk about with our clients:
1. Know your budget. This will help limit options up front saving the designers time and you money.
2. Why are you making the change? Is it due to growth? To attract and retain?
3. How will this impact your current space (electrical and structural changes, HVAC, culture, etc)?
4. Understand that furniture is made to order so thorough planning is key.
Can you give me an example of how office design and space planning can impact an organization's culture?
Companies want their people to work across departments and to work as a team. Sometime that is not possible when team members are physically cut off because of high-walled cubes. When you open up the space, employees start to feel appreciated and are more willing to collaborate. Seems like a simple change, but it can make a big difference with employee interaction and overall efficiency.
Same goes for private offices. We are seeing a huge shift from executives requiring the corner office with a view. Executives are now wanting to limit physical barriers and differentiating spaces to provide a sense of teamwork and camaraderie.
What are some of the hottest trends you are seeing for office space design?
The number one item that almost all clients are asking for is integrated technology. Technology in workstations, private offices, cafes, lounges… really everywhere.
In today's office environment, it is a necessity to easily and effectively connect and collaborate. And sometimes you need to collaborate with others in a different building or even a different country. That is why we are seeing integrated products such as media:scape which are reshaping the way people collaborate in a connected world.
One last and extremely important question: any design trends that you are glad to see go?
Ha! Yes…definitely! The high grey fabric panels from the 80's.