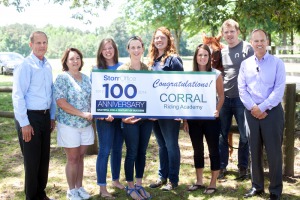 The past four months have brought a lot of transformation to Corral Riding Academy's 150 year old farm house… and there is still much more to come.
In June, Storr selected Corral Riding Academy (a faith-based nonprofit that provides at-risk girls between the ages of eleven and eighteen with rescued horses to promote healing, transformational growth, and lasting life change) as the second winner of our $100,000 Office Makeover Giveaway. Since then, Storr's team of designers, project managers, and installers have been working hard to create a space for this extremely deserving nonprofit.
Corral is currently in their construction phase, undergoing some BIG renovations: Walls are coming down and being moved, doorways are changing, and the front porch is being redesigned.
"This has been such an exciting experience for us. Each day we come in and something has been changed. We are so looking forward to this new office space that will not only be for the staff, but also be used by the girls we serve," said Joy Currey, Executive Director of Corral Riding Academy.
The makeover is set to be completed by the end of November and Corral will be hosting an open house on December 9th at 4.30pm for anyone who would be interested in seeing the transformation and supporting the organization. Be sure to stay tuned for more updates!