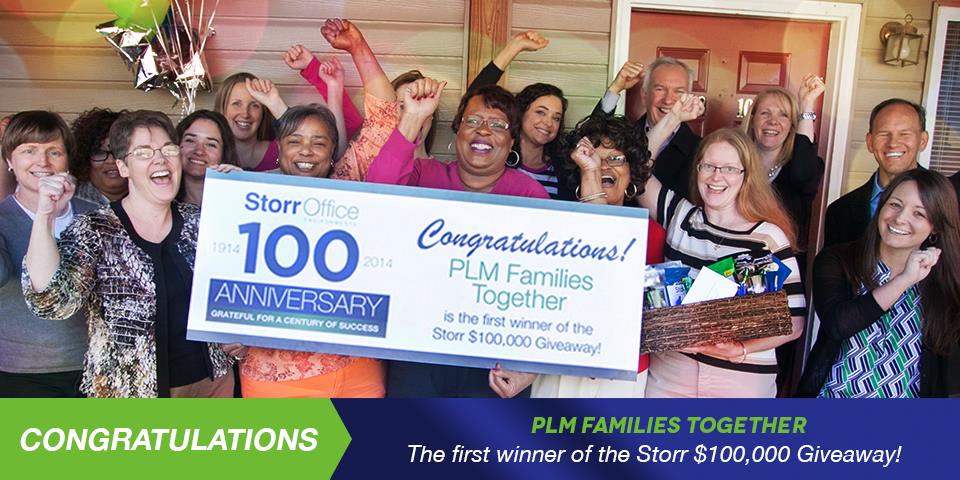 Storr Office Environments awarded on March 10, 2014, the first of two office makeovers to PLM Families Together, a Triangle-based nonprofit that helps families overcome homelessness.
The $100,000 Office Makeover Giveaway is Storr's way of commemorating their 100th year of business. "We wanted to do something that focused on the community that has made our success possible," said Storr CEO Tom Vande Guchte. "We decided the best way to show our gratitude is to provide office makeovers to nonprofits that make the Triangle a better place."
Storr set up a website (storr100.com) to take nominations and applications for the $100,000 Office Makeover Giveaway. "We had over 60 applications," said Bob Schanz, President of Storr. "It was a really tough decision. There were so many qualified and well-deserving nonprofits that applied."
A team from Storr made the surprise award presentation to PLM Families Together at noon on Monday, March 10.
"We couldn't believe what was happening," said Beth Bordeaux, Executive Director of PLM Families Together. "This is going to make such a difference for my team and the people we serve."
With a history of service dating back to 1980, PLM Families Together helps homeless people move into stable housing. "You would be amazed at some of the stories we hear," Bordeaux said. "We frequently have people come to us who have been sleeping in their cars. One family had been living in a storage unit."
PLM's aim is to help people get back on their feet within two to four months. "We either get them into a shelter or into one of our short-term apartments," Bordeaux said. "Then we walk alongside them to get them back on their feet."
Part of PLM's services include going with prospective tenant to lease signing and coaching them through the process. Beyond finding housing, PLM helps the new tenant to manage their money more effectively and develop good financial habits.
"This office makeover will undoubtedly help my team carry out our mission more effectively," Bordeaux said. "We are currently working out of a converted apartment, using whatever hand-me-down desks and chairs we could find."
PLM's staff works on difficult cases every day, which takes a physical and mental toll on them, Bordeaux explained. She is delighted that her team will walk into a new space soon that will be uplifting and designed for the work they do.
"It's encouraging to know that the local community finds the work that we do worthy of nomination," she said, "and it's wonderful that there is a company that decided to give back to the community in honor of their 100 years of business. I'm thankful. Very thankful."
Storr is currently taking nominations and applications for its second nonprofit office makeover. Interested applicants can learn more at Storr100.com.
Serving the Triangle and the Triad, Storr Office Environments provides comprehensive services for planning and outfitting office spaces, healthcare facilities and education spaces. Additionally, Storr provides records management, relocation services and has a pre-owned furniture warehouse that is open to the public. To learn more, visit Storr.com.