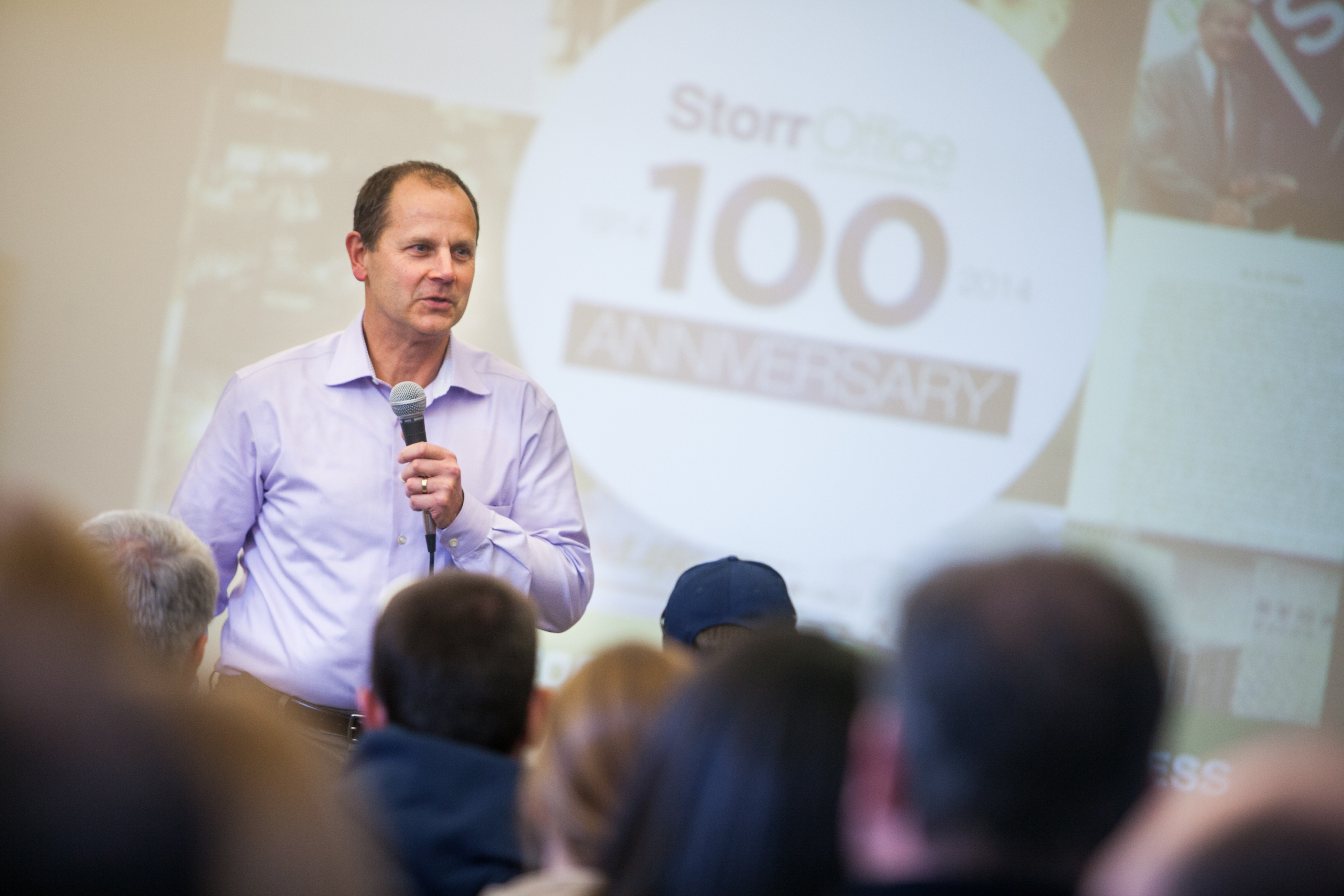 Storr Office Environments recently announced the launch of its $100,000 Giveaway, celebrating 100 years of creating inspiring workspaces in the Triangle area. As part of Storr's 100-year celebration, the Raleigh, N.C.-based supplier of office furniture and related services will be giving away $100,000 in office makeovers to two local nonprofit organizations.
A yearlong project, the $100,000 Giveaway will be aimed at giving back to the community that has supported Storr since it was founded in 1914.  As part of this initiative, Storr will select and completely design and supply new workspaces to create an inspiring and effective work environment for two Triangle nonprofits, benefiting the employees, the nonprofits and the community as a whole.
"Our 100th birthday is not about patting ourselves on the back. It's about saying 'thank you' to the Triangle community that has supported us through it all," says Tom Vande Guchte, CEO of Storr Office Environments. "We are thankful to our customers, our team members, the community and to God for a century of success."
The local nonprofits chosen to receive office makeovers will be selected from a pool of nominations. Nominations are currently being accepted through Storr's new microsite, www.Storr100.com. Nonprofit organizations may also directly apply via this website.
A selection committee will review and assess all submitted nominations that meet the following requirements:
The nonprofit must be based in and serve the Triangle area.
The nonprofit must have a physical office space that would benefit from an office makeover.
The nonprofit must have a compelling story of the value they provide to our community.
The first winner will be announced in February 2014, via www.Storr100.com and Storr's social media outlets. The second winner will be announced later this year. The winning office makeovers will be recorded and shared via video on the www.Storr100.com website.
In addition to the $100,000 awarded in office makeovers by Storr, several of Storr's partners, suppliers and vendors will also be donating products and services to the $100,000 Giveaway.
About 150 employees at Storr's corporate headquarters in Raleigh, N.C., are also getting involved in giving back to the community. During the $100,000 Giveaway kick-off celebration held for Storr employees on Wednesday, Vande Guchte gave each employee $100 and charged them to go bless someone in the community with it in the next ten days.
"We're incredibly grateful for how this community has supported us over the years. Now, we want to be a blessing in return," says Vande Guchte.
About Storr Office Environments
Storr Office Environments creates, furnishes and manages office interiors for businesses, healthcare providers, educational and government organizations. Celebrating 100 years of creating inspiring spaces in the Triangle area, Storr Office Environments has locations in Raleigh and Greensboro, N.C.